10 Ways to Get Top Dollar for Your Home
Posted by Ben Kubicki on Friday, December 3, 2021 at 10:58 AM
By Ben Kubicki / December 3, 2021
Comment
Everyone wants to get the most of your home in a seller's market. With historically low-interest rates and a thriving seller's market, homeowners are put in a very profitable position. Properties are flying off the market in a lot of places around the country but that doesn't mean they're all getting top dollar. Sellers may not have a hard time negotiating at the moment, but there are ways to get even more profit from the sale. Here are 10 unique tactics for getting top dollar for your home.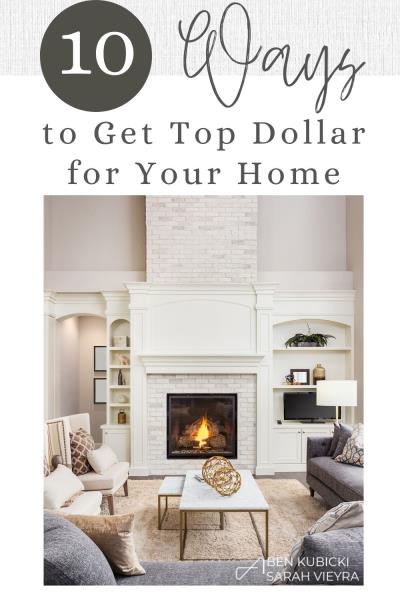 #1. Work with a real estate agent that really knows the market.
We can't stress this enough. This is not the time to work with your cousin's brother's best friend's wife. If you know of an amateur that's just getting into real estate, this is not the market to test their new skills. You need someone that understands the real estate market in specific neighborhoods, understands the market for your type of home, and when to sell, when to list, how to stage, how to take photos, and basically how to negotiate through every detail. If you do not feel 100% confident in a listing presentation (and you should definitely interview your agents this way) it's time to move on. Don't worry about hurting someone's feelings. This is hundreds of thousands of dollars and you want the absolute most from the sale of your home. Use an agent that you feel comfortable with, works full-time in real estate, and really knows the market.
#2. Be cautious on contingencies.
It's not happening a lot right now but buyers may load on the contingencies just to see what you'll do. You can always counter these contingencies or simply reject them altogether, however, a good agent will negotiate back and forth to try and create a win-win for both parties. Sellers can also modify contingencies to meet the buyer halfway.
#3. Consider the terms.
Cash may be king but it's not the end-all best offer. You have to consider those contingencies and the terms. If it's a cash offer but the terms such as a fast or long closing, multiple contingencies, or other issues don't add up, that cash is not really a good incentive. Again, a great real estate agent will help you negotiate through all the details and weigh the pros and the cons to all the terms and details in the purchase and sale contract an offer.
#4. Be cautious on a bidding war.
There are a lot of agents that purposely list properties lower than the market value to spur on a bidding war. This is a risky tactic that may or may not work. You can start a bidding war if the home has amazing photos, is stage appropriately, and is slightly less than the closest competition. You're likely to get multiple offers and create urgency, especially when you review offers at the end of an open house or the end of a popular weekend. The seller usually has an upper hand and can decide over multiple offers, but not every home and situation will benefit from this tactic. This is something that should be seriously considered between your agent and you.
#5. Get a pre-inspection.
By scheduling and completing a pre-home inspection you've told the buyers that you're willing to put in the effort to make sure the home is up to par when selling. This may also prompt buyers to waive the home inspection themselves as long as you provide the inspection report and any repairs or updates you've done. This puts you more in the driver's seat than them.
#6. Get a home stager.
Some real estate agents may offer a staging consultation along with the listing contract. A stager doesn't need to cost hundreds of dollars but can simply offer consultation on the best way to use what you already have. Perhaps it's simply turning furniture a different direction, making rooms more neutral, and taking half of the items out of closets, drawers, and cupboards.
#7. Take amazing photographs.
There's no point to use a stager if your photographs are not going to highlight how amazing each room is. Professional photographs can make a room look exactly the way you wanted to and create a unique first impression that buyers will remember. This is not the time to take a crash course in iPhone photography.
#8. Consider paying the buyers closing costs.
While most sellers probably don't need to do this, a lot of buyers need to get into homes and they might find it difficult to come up with the additional money needed for closing costs. Sellers might consider offering a little bit more or meeting them halfway in closing costs to help the deal go through. This tactic is especially useful for sellers if their home has been sitting on the market longer than they want to.
#9. Offer a home warranty.
Along with the pre-inspection, a home warranty will ensure any new buyer that if something should go out within the first year, it's completely covered. These can typically cost about $500 but it might be a great incentive to get more buyers interested.
#10. Listen.
Listen to your real estate agent. They do this on a daily basis and if you think you know better than them, you're probably mistaken. They know what's selling, they know what buyers want, they know where the market is, and if you completely reject solutions, ideas and suggestions, you may find your home sitting on the market far longer than you want to. It's a good idea to simply listen to your agent, listen to buyers agents on any cruise destructive criticism, and take advice from the experts.
Would you like a free listing presentation and find out what your Park City home is currently worth? Contact us below at any time. Would love to help you list your property and get the very most profit out of the sale.