5 Great Winter Cleaning Tasks for January
Posted by Ben Kubicki on Sunday, December 26, 2021 at 1:50 PM
By Ben Kubicki / December 26, 2021
Comment
During the winter months, the cold weather and now the global pandemic keep family's home and inside more often than usual. The holidays are over, the kids are back in school, now is the perfect time to check off some winter cleaning tasks and start your New Year off on the right foot. Tackling some of these tasks now is a great start to reducing your maintenance checklist when spring rolls around. Not sure what to focus on during the winter months? Here are 5 great winter cleaning tasks to tackle in January.
Bring out the Duster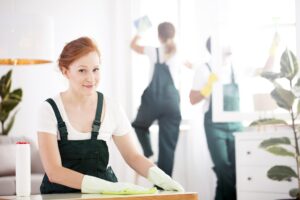 Dust tends to collect a lot more in the winter months due to your home being closed up to keep the warmth inside, there is no fresh air circulating throughout the house and there tend to be more bodies occupying the space. Dusting should always be included on your winter cleaning checklist.
Take the time to get all the nooks and crannies that are not always included in your routine dusting. Wipe down all of your fan blades, windowsills, shelves, banisters, even your TVs. Also, don't forget your furnace, your furnace is usually running a lot harder in the winter, take the time to change your filter and clean around the area to prevent even more dust from being spread throughout your home. If your furnace is dirty, the dirty air is what is flowing through your home.
Thoroughly dusting your home will improve your air quality and your family can breathe easily.
Deep Clean Your Floors
Usually, wet weather comes hand in hand with winter weather tracking mud and dirt into your home with every step. Your carpet and floors tend to take a beating in the winter. Pull out the heavy-duty equipment, your floor cleaner, rent one from a local store, or call in a professional, you won't regret allowing your floors to shine.
While you're cooped up in your home, treat your floors with extra love and care. Taking the time to deep clean your floors can refresh the entire atmosphere of your home.
Make Your Windows Shine
You may be shocked by the suggestion to clean your windows in the winter, it's cold outside, but the suggestion to clean your windows is for the inside of your home. Your interior windows can get pretty dirty quickly with your animal's faces pressed against the window or small children with their sticky, grubby hands. If you have a wood-burning fireplace or pellet stove in your home, you may be surprised by how dirty your windows get with a film of soot.
Taking the time to make your windows shine with a quick, easy cleaning solution, gives your home some natural light. Open up the curtains to allow the natural light of the sun to brighten up your home.
Spruce Up Your Kitchen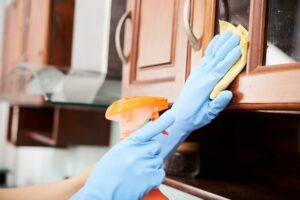 Cleaning your kitchen surfaces daily is not always enough. Take the time to deep clean your kitchen, some unseen areas of your kitchen can accumulate a build-up of grease, grime, and dirt.
Warm, soapy water should do the trick. Give your appliances a good wipe down to allow them to shine. Your cabinets need attention too, wipe down your cabinet doors but, don't forget the top of your cabinets that are usually ignored. Out of sight out of mind. The top of your cabinets needs to be thoroughly cleaned from all the dust and greasy grime that a. Don't forget to wipe down your ceilings as well; cooking fumes can leave behind hard-to-see grime deposits, so cleaning your ceiling can prevent build-up and discoloration. Finally, don't forget the kickplates along the base of your floor, this is commonplace for dust bunnies to hideout.
Deep cleaning your kitchen is a big task and one that needs to be done, especially after the holidays.
Clear Out Your Dryer Vent
Clearing your dryer vent is often overlooked when routinely cleaning or deep cleaning, this project should not take a back seat. According to the U.S. Fire Administration, 2,900 clothes dryer fires are reported each year resulting in costly property loss and even death. What may surprise homeowners the most is that the majority of these fires occur in the fall and winter months.
Why are clothes dryer fires more prevalent in the fall and winter months? Clothes dryers work overtime in the fall and winter months with extra or bulkier clothes. People tend to layer their clothes or wear thicker sweaters or sweatshirts to bundle up in, this causing your dryer to work extra hard to get your clothes dry.
If you're planning on selling your Park City home this next year, give us a call to find out what it's worth and how you can increase your home's value now.