7 Tasks to Do Before Moving Into Your New Home
Posted by Ben Kubicki on Wednesday, February 9, 2022 at 6:54 AM
By Ben Kubicki / February 9, 2022
Comment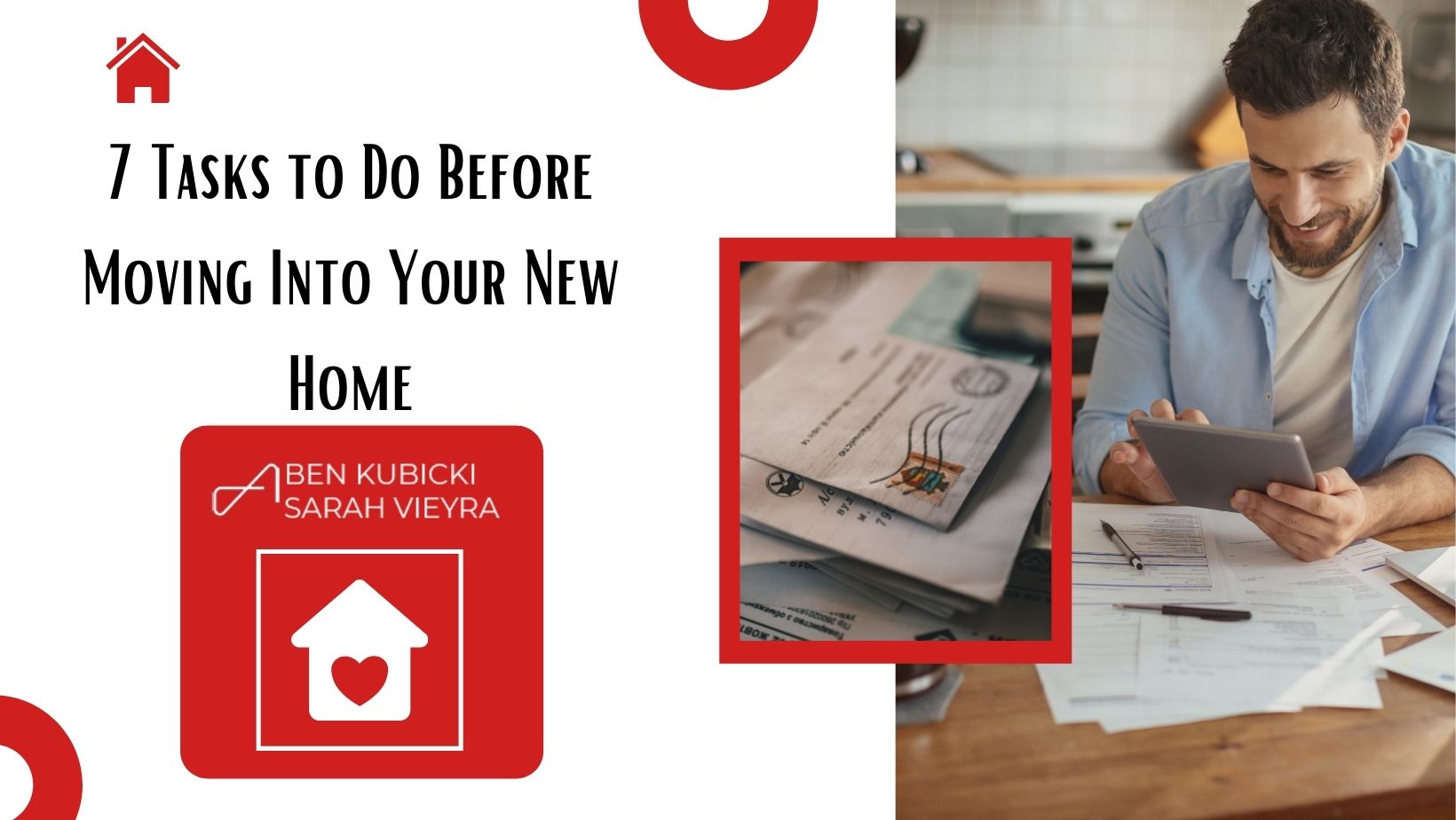 After you find the right house, have an offer accepted, and then close on your mortgage, it's time to prepare for the move. Do you have a checklist prepared to keep you organized?
If not, keep reading for our list of what to do before moving into your new home.
Transfer Utilities
At least two weeks before your intended move-in date, contact your utility companies to schedule a transfer of service to your new address. Don't procrastinate, since it may mean you end up without power, water, or gas if you don't get on their schedule early enough.
Set up Internet and Cable
Find out what internet and cable providers are available to service your new home address. This is something you want to do before moving in, especially if you rely on internet service to work from home or keep remote school running.
Creating a new account can take some time, and in many cases you will need to schedule a technician to come out and install or turn on equipment in the home. Think ahead and shop around before your move in date, and try to schedule at least two weeks in advance.
Schedule Movers and/or Moving Truck
Scheduling a moving truck is a must, and you may want to hire some movers, too. Unless you have a large team of able bodied friends and family, finding a well reviewed team of movers is something you'll want to do before moving.
Moving services range on a spectrum from just moving furniture and appliances in and out of the truck all the way to packing and unpacking your items. Decide what your needs and budget are to make sure your move goes as smoothly as possible.
Deep Clean
The easiest house to clean is an empty house. A deep clean is something you can do before you move, and your future self will thank you.
If you have room in your moving budget, consider hiring a professional cleaning team to help. If not, a little elbow grease will get the job done. You will likely be able to get your new house perfectly clean in a day, with no furniture or belongings to work around.
Set Up Appliances
Before you move in, making sure you have a plan for setting up appliances. Remember that setting up a refrigerator and freezer is something you want to do a day or two before you plan to use it.
A refrigerator should be set upright for at least 3 hours before plugging it in, and then plugged in at least overnight before using it to store food.
If you need to purchase appliances, schedule delivery and installation before your move in date, if possible.
Update Your Mailing Address
Something you will need to do before moving is update your mailing address. Some of the people and companies who may need your new address are:
Your employer
Your bank
Accountant and tax professionals
Credit card companies
Loan providers
Online shopping companies
Insurance providers
Medical offices
Make sure to register a change of address with USPS just in case you forget anything. Consider this forwarding service a sort of safety net while you make sure everyone has your updated information.
Stock Your Home with Essentials
While it takes some time to settle into your new home and organize your things, there are some essentials you can stock your house with to make it feel like home from day one. Some of these things would be:
Towels for the bathroom and kitchen
Paper towels, napkins, and toilet paper
Bath mats
Hand soap
Dish soap
Trash bags
Paper plates
Coffee pot
Laundry detergent and hamper
Blankets, pillows, and bedding
A week's worth of clothes, toiletries, and medications
When you're ready to look for a home in the Park City real estate area, we are ready to help. Contact us today to get started!
More Great Tips:
Check Out Today's Newest Listings in the Park City Area
No Matching Listings
Try a new search, or click below to get notified when matching listings become available.