Pros and Cons to Ski-In and Ski-Out Home or Condo
Posted by Ben Kubicki on Thursday, November 18, 2021 at 12:02 PM
By Ben Kubicki / November 18, 2021
Comment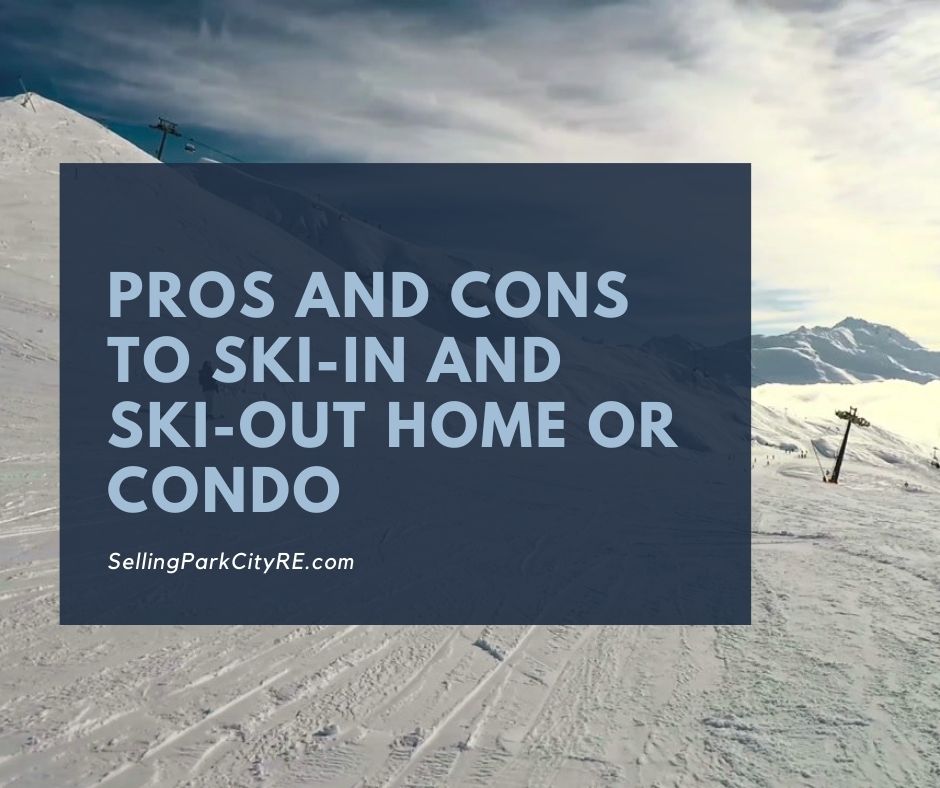 One of the premier features of a home in Park City is the ability to ski-in and ski-out. Whether it's a vacation home, permanent home, or rental, the idea of not having to pack up the car and drive to the ski slopes is quite a perk. If you've fallen in love with the Park City area, you've probably done so because of the outdoor adventure and ski opportunities. We have some of the best skiing in the country so it's only natural to have a desire for a ski-in ski-out property. Are there pros and cons to this type of property? While it's no secret that this is probably one of the more expensive types of properties, there are benefits as well as some disadvantages. Let's talk about the pros and cons to a ski-in and ski-out home or condo.
Before settling on a home or condominium it's important to know your budget. How much are you willing to spend for this type of feature? Do you care about the accessibility to activities in town? Does anyone in the house not want a ski-in or ski-out property? All these questions are important to take into account before settling on the right property.
Pros of a ski-in and ski-out home or condo
Convenience. No need to pack the car and drive to the resort. No traffic jams or finding parking spaces. You are simply already at the slope.
First in line. Having a ski-in and ski-out home means you're probably in the front of the lift line. For popular destination resorts like Park City and Deer Valley, being first of the lift means first in that fresh, powdery snow.
Save money. Many lodgings have full kitchens, many kitchens, small refrigerators and microwaves even in vacation condominiums so you won't be spending a lot at the pricey restaurants in town. But, when you're ready, you can simply ski-in for your favorite burger and brew.
Safety. Just like we mentioned previously, you can ski-in to your favorite lounge and have an apres ski without worrying about driving anywhere afterwards.
Cons of ski-in and ski-out homes and condominiums
Expensive. This type of luxury can be expensive. You can cut the price tag by opting for a condominium, however, most condominiums in Park City will have homeowner association fees which can run anywhere from $100 per month to several thousands of dollars per year depending on the amenities that the building or complex offers.
Noisy. Because you are so close to the lift you may have an issue with the noise level from those that are skiing in times where you're ready to hit the hay. On popular mountain slopes, skiing may go late into the night and if you're close to the lift, quiet time may not be a thing.
Limited. You may be limited to certain other types of restaurants. Obviously, if you want a different restaurant that you can't ski-in or ski-out to you'll have to remove your skis and pack up everything and either walk or drive to your favorite restaurant or shopping. You may also need to travel to other non-skiing attractions, which can be a problem if you're interested in seeing other parts of the town. Of course, if you're buying a home, you probably already know where you want to go and when you want to go so this may or may not be an issue at all.
What to know before buying a ski-in and ski-out home or condo.
Make sure you know the area before you settle on a location. Browse around to some of the ski-in and ski-out communities such as those in the Upper Deer Valley like Evergreen, Deer Crest Estates or The Colony. Some of the newer subdivisions such as Bald Eagle Club and Kings Crown offer beautiful luxury homes and some are within gated communities. Browse around, drive the neighborhoods, or simply ask your real estate agent about information on the best communities in Park City.
It's also important to consider future resale value. Whether it's a condominium or house, you'll want to consider the resale value of the property.
Don't elect other amenities. The ski-in and ski-out aspects might be exactly what you're looking for but does it provide other amenities that you desire? If you want to condominium doesn't have a swimming pool, tennis courts, concierge services, or other amenities? Do you want to gated community, privacy, acreage?
Don't forget about Internet service. Sometimes, the farther out you go, the worst Internet you have. A grand, luxurious, mountainous state might be the epitome of wealth and luxury but if you can't watch your favorite Netflix show, what's the point? This may or may not affect your decision.
Accessibility. You want to make sure that you can get in and out of your property whenever you want. The further out you go, the more inaccessible it might be.
Choosing the right ski-in ski-out home condominium takes a little bit of research but with the right real estate agent and team behind you, you can find exactly what you want for your terms and price. Contact our office at any time or browse all ski-in and ski-out condominiums and homes below.