Strategies to Get Top Dollar on Your House
Posted by Ben Kubicki on Monday, December 13, 2021 at 2:16 PM
By Ben Kubicki / December 13, 2021
Comment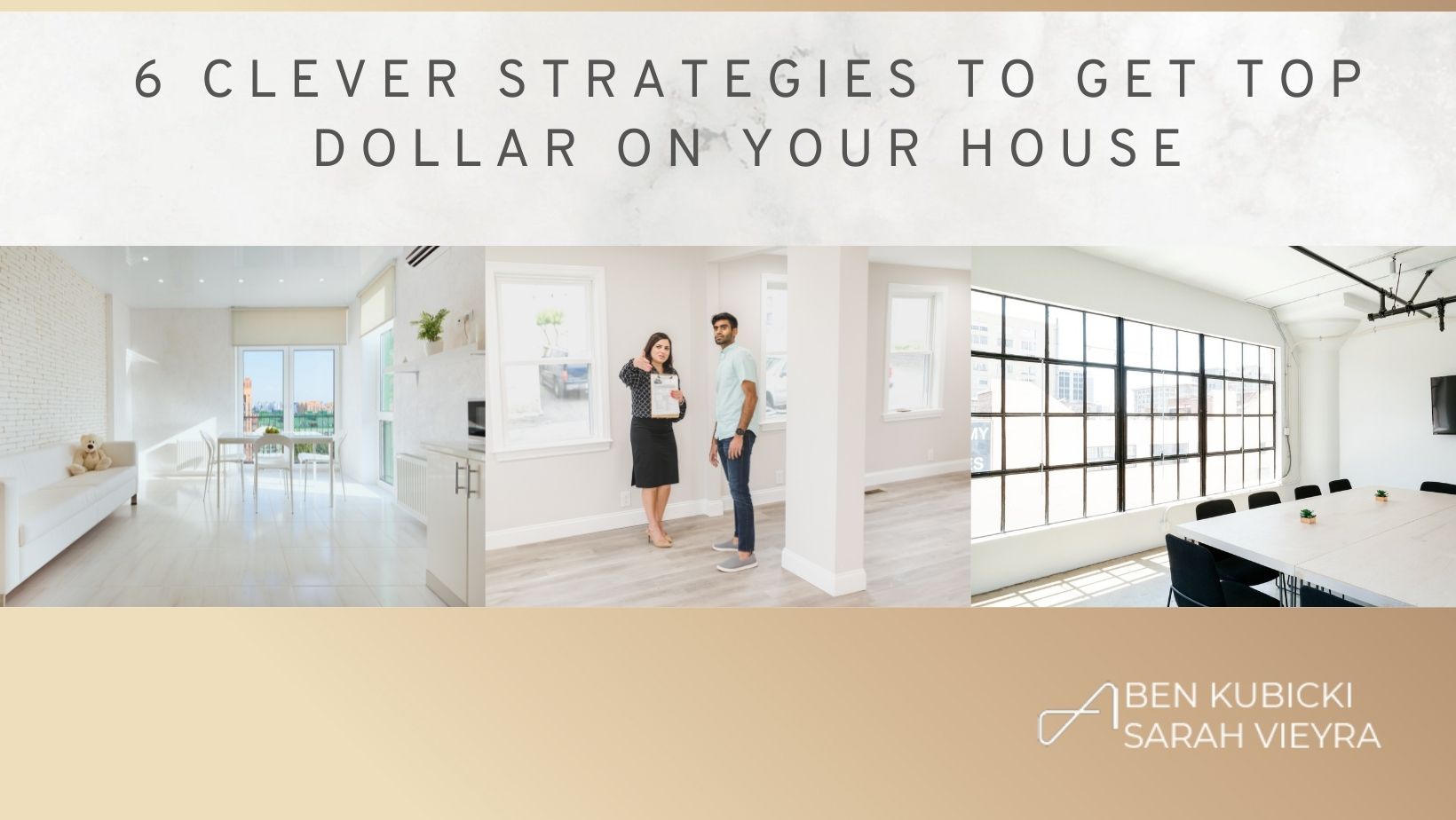 Even in a competitive seller's market, there are things a homeowner can do to sell their house more quickly, and maybe even for a higher price. Though homes seem to be flying off the market shelves so to speak, all over the country, and buyers are willing to compromise on wants to get in a home, there are some things sellers can do to make a home sale more successful.
Work with the Right Realtor® to Sell Your House
Just because someone has a real estate license does not necessarily mean they are going to do a great job selling your home, even at a time when selling homes is easy. You want to make sure you have an agent that is willing to serve and fight for your best interests.
Make sure to interview a potential realtor if you do not already have one you know and trust. Ask them about their experience with your type of home. Ask them about their marketing/selling strategy. Ask them about their most recent sales and about an example of when they had to stand up and advocate for a seller.
Make Any Counter Offers Time Sensitive
It is not uncommon to receive an offer that is intriguing, but not quite perfect. An offer that you may be on the verge of accepting if one or two terms were changed. Do not be afraid to make a counteroffer, but make sure to put a time limit for accepting the counteroffer terms in with the counter offer. This will allow you to move on to the next available offer instead of staying tied up in negotiations that could just end up falling through.
Consider a Pre-Listing Inspection
Most often the burden of making sure a home is in safe and good working condition is on the buyer. With a pre-inspection on the seller's part, you will have a clearer view of what a potential buyer's inspector could include in a report.
This allows the seller to anticipate the biggest concerns a buyer may have with the home ahead of receiving any offers. For example, if there is an issue with the home, such as a leak under the bathroom sink, or an aging roof, you can adjust the price of the house or make these fixes to save time on negotiations to remedy them during the closing process.
More: Is a Pre-Inspection a Good Idea?
Stage the House
While some say that staging is not a must for selling a home, it definitely helps a home to sell more quickly. Staging only adds to the appeal of a home. When a home is styled just right, in a way that appeals to today's buyers and highlights attributes of a house that buyers are seeking out, the home is easier to fall in love with.
The easier it is to fall in love with a home for a wider set of buyers, the more buyers you will have falling in love with your house. And the more buyers that fall in love with your home, leads to more buyers that put in an offer on your home.
Use a Win/Win Strategy
Negotiations are not meant to be a battle to see who can come out of the purchase on top. Having the 'us vs. them' approach could cause a buyer to back out of a deal. You want to be someone who is pleasant to work with (as much as possible, depending on how easy the buyer is to work with) this will help keep things running as smoothly as possible.
Both parties in a deal can appreciate when the focus is on the best mutual outcome for both parties.
Be Knowledgeable of the Other Side's Potential Tactics
The best and most successful home sales and purchases happen when a seller and a buyer are knowledgeable as possible about the business of house sales. The most successful home sellers know the current market and what they are potentially about to face with today's home buyers.
Knowledgeable buyers with highly knowledgeable agents on their side come out with successful in-home negotiations.
For more information on selling a home or property in Park City and surrounding areas, please contact us at any time.
More Advice for Sellers
Should you sell your home BEFORE the end of the year?
Is Aerial Real Estate Photography a Must for Sellers?