What's 'In' in Luxury Park City Real Estate?
Posted by Ben Kubicki on Thursday, September 16, 2021 at 11:28 AM
By Ben Kubicki / September 16, 2021
Comment
There are some trends in real estate that just don't go out of style while others come and go or are reinvented. If you're planning on selling your Park City luxury home or just looking at doing some upgrades to stay on point and on track with today's trends, here are five design tips for what's "in" in luxury real estate.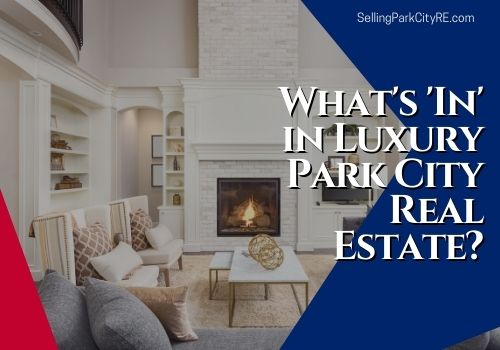 #1. Smart home technology.
Over the last five years, smart home technology has become more and more prevalent. You'll see homes that are completely operated on a cell phone, programmable thermostats, digital entryways, locking mechanisms, and even ways to turn on and off different appliances in your home.
Luxury home buyers are actually looking for this type of property so the more technology you can implement into your home, the more appeal it may have to prospective buyers. You can put just about anything on your phone or your digital device having items such as Alexa or Google control and operate many items in your home. While it may be frustrating to some, in the luxury home market this is almost a given.
Related: Is Aerial Photography a Must for Sellers?
#2. Professional kitchens.
Even for those that don't cook, having a professional or upgraded kitchen is definitely a luxury perk. The kitchen is often the hub of the home and it's usually the first room to be updated. If you're looking to appeal to a wide range of luxury homebuyers, start with the kitchen. High-tech appliances, the latest gadgets, high-end materials such as granite or marble, custom cabinetry, matching appliances, and even details such as crown molding or luxury amenities such as a separate wine fridge, warming drawers, or other high and technology is a must-have in luxury kitchens.
#3. Separate space for entertaining.
Most luxury homes will have formal living rooms and dining rooms but you'll also want to space for entertaining. It's becoming increasingly popular for homeowners to create a separate space in the home for entertaining, technically away from everyday living space. This might be a media room, home theater, indoor swimming pool, larger kitchens, or even indoor sports courts.
#4. A self-sufficient home.
Special attention to the environment and economic efficiency is key in luxury homes today. Geothermal heating and cooling systems are becoming one of the coolest and hottest trends in homes today. Looking to the earth to heat and cool your home is more efficient than a traditional HVAC system. Geothermal systems protect the landscape by removing any unsightly condensers or wires that come with traditional systems. There are drawbacks to both, but this has become an increasingly popular system.
#5. A high-tech bathroom.
Kitchens aren't the only place to go high-tech. Master bathrooms have been an in-home oasis where the homeowner can retreat after a long day and relax in either a jetted tub or steam shower, potentially both. Making this area more luxurious with smart technology tunes up the attractiveness factor. Consider radiant heat flooring, towel warmers, or even transform your mirror into an LCD television. These new technologies will make the master bathroom seem like a five-star resort hotel.
And that's truly the key. Do potential homeowners and buyers feel that they are in the epitome of luxury and relaxation when they enter the home? Feeling like you're on vacation 24/7, especially with more of us working from home is the key to selling a home quickly and for top dollar.
For more information on luxury home trends in Park City Utah or surrounding communities in Deer Valley and the Heber City area, contact our office below at any time.