Why Selling in the Winter May Be a Good Thing
Posted by Ben Kubicki on Wednesday, November 24, 2021 at 6:50 AM
By Ben Kubicki / November 24, 2021
Comment
Most folks prefer to hunker down and stay warm and cozy during the winter season. But if that's not an option for you, and all you want for Christmas is a successful house sale, take heart: there are some advantages to marketing your home during the colder months.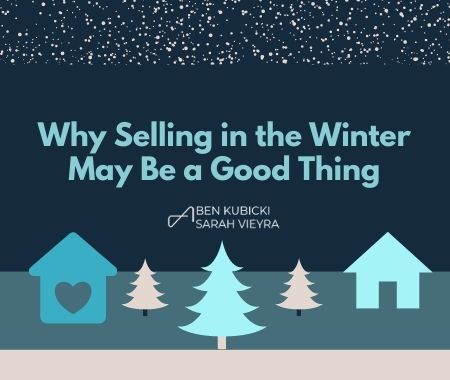 Since this is the off-season and there are fewer homes on the market, it will be easy to find a Realtor® willing to sell your home. You'll benefit from a motivated realtor who has fewer listings and who will prioritize the sale of your home.
Less Competition
With fewer homes on the market, you have less competition from other sellers. Fewer options for buyers in your neighborhood means your house has the opportunity to be viewed by more people. You'll also most likely see more serious buyers as less motivated folks don't make the effort to house hunt during inclement weather.
Efficiency
Financially, selling a house in the off-season means loans and title transfers can be processed more efficiently and both buyers and sellers can take advantage of potential year-end tax breaks. Also, during the holidays, many buyers have more time off to look at houses and some receive year-end bonuses that they plan to put towards down payments.
Buyers in the winter season also have the advantage of more easily scheduling moving companies, trucks and storage units. Other tasks like arranging home inspections, completing repairs and finalizing the closing paperwork are also generally easier to accomplish due to the fewer home sales taking place.
Put it to the Test
Another positive aspect of selling a home in the winter is the ability for prospective buyers to see how your home handles the elements. This is a perfect time to show off your home's new heat pump/furnace and point out the double-paned windows and great insulation. Turn on the lights and get a fire burning in the fireplace if you have one to help make your home cozy and welcoming.
Make it Easy for Buyers
The presence of snow can limit prospective buyers from seeing (and appreciating) all the outside features of your home. It can also make it treacherous for them to navigate sidewalks, driveways and stairs safely. Minimize this aspect by removing as much snow from your property as possible before showing your home. Backyard features may not be as visible either, so clear snow and leaves off the deck, pool or gazebo and string white lights around them to help visitors see and appreciate your home's special enhancements.
Giving your home some extra attention during the winter months can help with a successful sale. And that's a gift worth every bit of time and effort!
Surprisingly, winter is a great time to sell a house in Park City. Buyers are looking for that vacation home and seeing it in its prime, at the height of peak winter vacation season, is a great selling point. Call us for a free listing presentation on how we can sell your house for top dollar!